The 100th Day of School is a day that many classrooms celebrate. We celebrate in 1st grade by dressing up like we are 100 years old. Teachers and students show up with gray hair, glasses, canes, purses, suspenders and more. During our day we have a lot of fun with the number 100 doing fun centers. We rotate through literacy, math, engineering, and creative centers.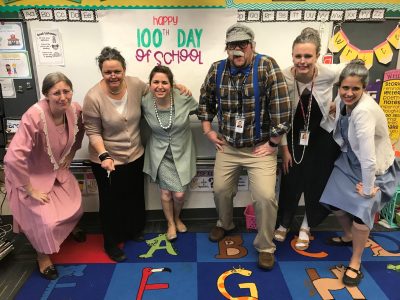 100th Day of School Centers
Literacy Centers
Some of our 100th day of school literacy centers include reading 100 CVC words. Students practice reading the lists. Once they know all the words they can play different activities with the words such as read all the short a words, or short u words. Students also can close their eyes and point to a word for their friend to read. After reading the CVC words, students can challenge themselves to read the short vowel word and then add the momma e and make it a long vowel word.
Another literacy center includes writing about what they will be like when they are 100 years old, writing about if they had $100 and writing about what they can do 100 times, eat 100 of, and what they want 100 of.
[one_half]
Math Centers
We have many math centers including using 100 pattern blocks to create a picture, finding the numbers on the 100 chart, using numbers on the bottom of Hershey kisses to place on 100 chart, tens and one with numbers from 1-100, roll and add to 100, roll and color to 100. We also work on tallies by flipping a coin 100 times and tallying how many heads and tails along with rolling a dice and tallying. Finally students use a number chart to fill in the missing numbers.
Using 100 toothpicks and marshmallows or something similar try to build a structure that can stand by itself. I have also used Popsicle sticks to build as well. You can use tiles or others engineering tools/toys. Also students have 100 cups to build with. They love making castles and towers.
Creative Centers
Students create and decorate a 100th day of school crown to wear, they use the number 1, 0, 0 to create a picture, and students use 100 snap cubes or other objects to create something.
[/one_half]
[one_half_last][metaslider id="472″][/one_half_last]
Students Who Finish Center Work Early
It is always good to have a plan for when a student finishes his/her center work early. Check out my post on extra time centers for students who finish work early.
After 100th Day of School Centers
After centers I read a 100th day of school book and we make a 100th day of school snack with 10 of each 10 items. With many allergies I base my list of ingredients on what my students can have. We also make a fruit loop or cheerio necklace with 100 items. Finally I send my students home with a 100th day treat to share with their families. I use a cookie that looks like a 1 (Vienna fingers or Nutter Butters work well) and then two circle cookies (fudge strips, oreos, or chocolate chips).