Each year I feel like I have so many resources for guided reading and so many options. I get overwhelmed and question if what I am doing is the best practice. Last year my goal was to find a way to make my guided reading groups more meaningful. I took a training at our district on The Next Step Forward in Guided Reading by Jan Richardson. This was a great experience and resource. I hope this helps you plan a meaningful guided reading group.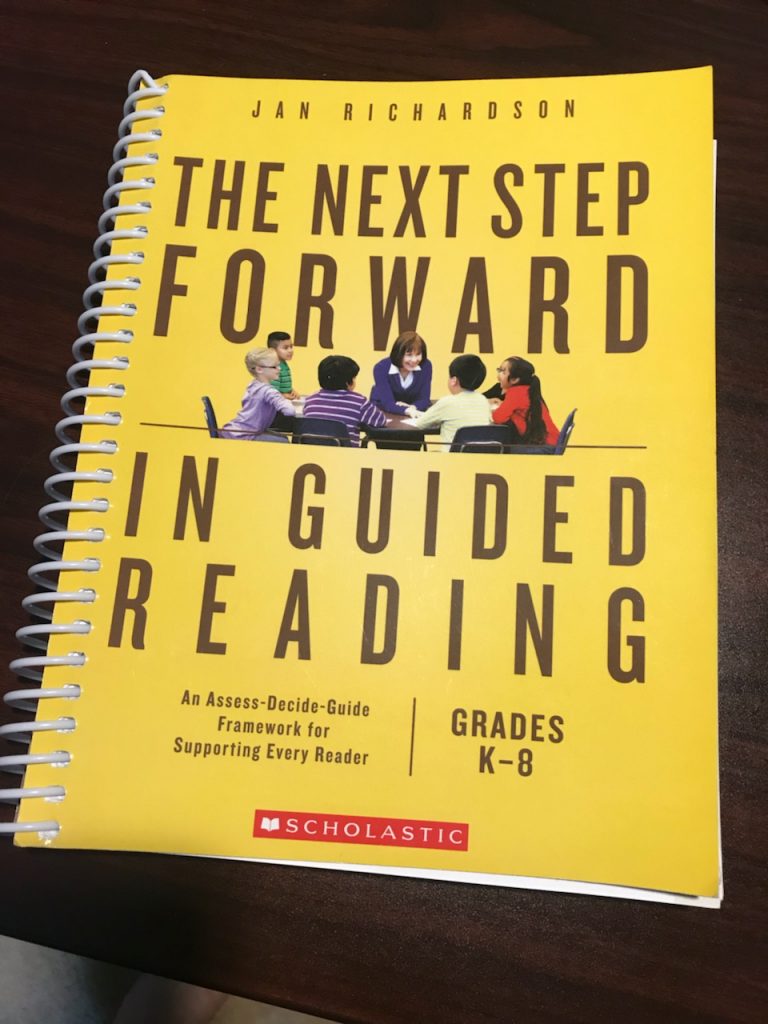 The Next Step Forward in Guided Reading
Jan Richardson's book was a great read about how to better understand guided reading and how to best teach small groups. The book was broken into different sections based on the different level of readers: pre-A to fluent readers. There are resources for all elementary teachers and reading levels of students. The book also provides great additional resources including lesson plan templates for each different level of readers, teaching strategies, videos to explain the teaching strategy, and skills to teach by level. There are so many good resources and I am still exploring many even after using the book last year. I highly recommend the book and the strategies Richardson provides in the book.
Steps to Guided Reading
After reading the book, Jan Richardson provides you with steps you should follow during a guided reading lesson and the time you should spend. These vary from reading level. For first grade (levels D-I) these steps include:
Sight Word Review (1-2 minutes)
Book Introduction/ Review previous day (3-4 minutes)
Reading With Prompting (8-10 mins)
Discussion Prompt (2-4 mins)
Teaching Points/ Strategies (1-2 minutes)
Teach 1 new sight word (1-2 minutes)
Word Study/ Guided Writing (5-10)
Guided Reading Techniques I Like & Implement
There are so many good ideas in her book and she lays them out simply. These are a few key elements that I have found helpful this past year.
Spending Time On Vocabulary – It is so important that students learn the level 2 words (words that aren't sight words but words that aren't content words either. These are words that appear most often in texts.)
Reviewing Sight Words – I love the lists provided in the back of the book for sight words for each reading level. My school has a list for all grades, but this helps focus on what words a student needs to know to read at the level. Without building the foundation, many of our students struggle with easy to read words.
Discussion Questions – I love how in each lesson students are asked a discussion question. This engages in higher level thinking. I focus my discussion questions on what we are learning about in our interactive read-aloud lesson. I scaffold these questions as needed. While some students might answer questions about the setting or characters, other students might have to think about character traits and think about what the character might do next or how their traits influence their choices.
Writing – I love how each level in 1st grade includes a writing piece. Again this is scaffolded and differentiated for each student and level. Sometimes students are given a dictated sentence using a details from the story or sight words. Other times the students are given a sentence starter or prompt about the story. Students on higher reading levels are given an entire session to build upon their writing. Many times I use this as a opportunity to scaffold, model, and practice summary and retells since my students usually struggle on this wiring component on DRAs.
Everyone Reads at Once Independent – No more round-robin or popcorn reading. Students all take ownership of their reading. After reviewing sight words and new vocabulary students all read the text independently. Teacher listens in to different students whisper reading and takes notes or running records.
Modification to Your Guided Reading Plans
While I love many of the ideas in the book, I have found that I needed to modify certain elements to better meet the needs of my students. Some of my modification have been:
Instead of Everyone Sitting at the Table Reading Independently – I alternate having students sit at the table and sit back to back on the floor behind their chair. This gives just a bit of separation that is needed for my students to work independently. 1st graders are not silent readers and many times I have found a student sitting nearby will listen and wait until the person sitting next to them reads the unknown word instead of trying to sound it out. I still have the opportunity to listen to all students read but it requires me to move a/round the table.
Discussion Questions & Writing – As I mentioned above I modify my discussion questions to meet the needs of my learners. Sometimes the discussion question might lead into our writing prompt for the day. Sometimes I have the students take the discussion question and use technology to enhance their learning. For example, the character trait idea or setting. When asking students about the characters traits and what the character might do next, I have incorporated technology where students think about the character and "writes" the next chapter of the book or the epilogue and then acts it out in Toontastic or Puppet Pals. I have done similar activities with the setting. Using technology to draw the setting and all the details or using the setting to create another story. There are so many great technology elements that can be included into the discussion and writing prompts.
Phonics Activities – The lesson plan templates allow students levels D- I to engage in a story for 2 days and then have time for another book if you meet with a group 4 times a week. Many of my groups I work with 3 times a week and have found to use that extra day to meet their needs in some other way. In 1st grade many of my students need phonics practice. During this 3rd day I review phonic skills, play games with phonics skills or do hands-on interactive phonics activities. I believe this is beneficial for students to learning how to read and decode unknown words.
Vocabulary – For my higher readers in 1st grade, Level I and above, I have incorporated some fun ways to learn the vocabulary including foldables and technology tools. When using the foldables I have my students create 4 flaps. One for each word. They write the word on the outside, draw a picture of their word on the top half of the inside, and then write a sentence using the word. For technology students can use many digital tools to create meaning, draw pictures, make connections, and learn more about the vocabulary words. I have also used time to teach students how to use the dictionary to find words and their meaning and how to use online resources as well. I believe these are valuable skills and if we want our students to remember the vocabulary they need to interact with it and make connections.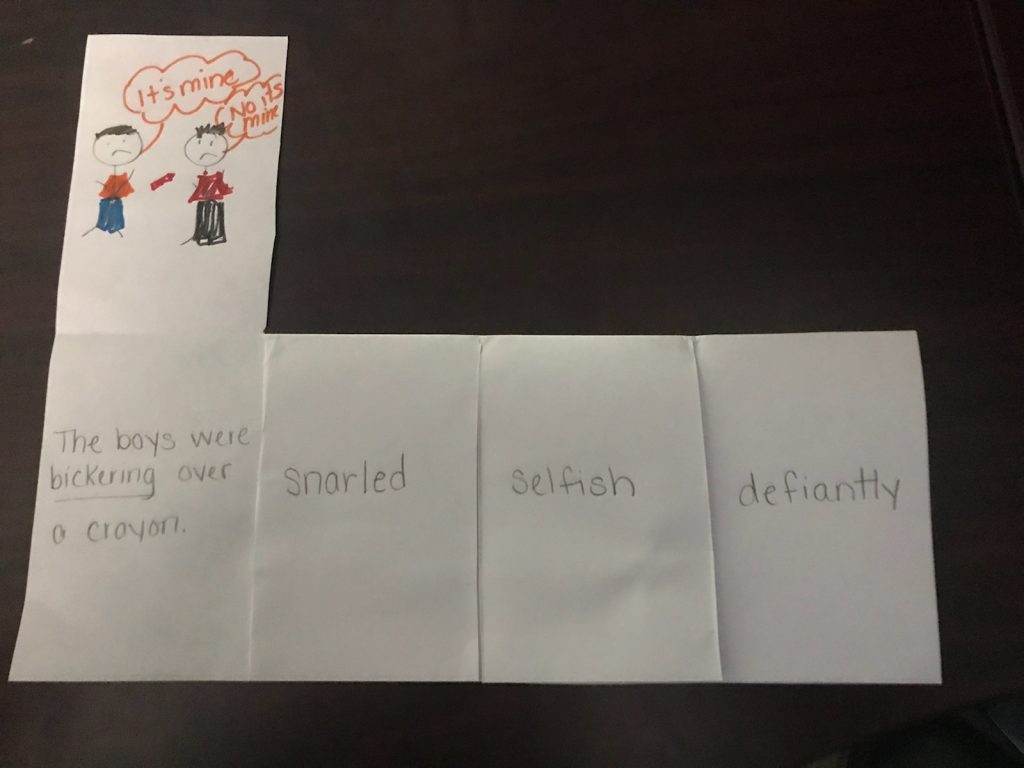 Want to Give This Resource a Try?
Overall this resource helps you focus your guided reading lessons on the areas that are most important at each level. There are many resources added in the appendix including lesson plan templates, sight word lists by level, skills needed for each level, and activities for each level. There are also videos online explaining the different ways to teach the lessons and activities. If you are interested in learning more leave a comment on the Education Coffee Break Facebook page and of course don't forget to subscribe to my blog! There is a drawing being held on the Education Coffee Break Facebook page for a free copy of The Next Step Forward In Guided Reading by Jan Richardson. Drawing ends September 1, 2018 and winner will be broadcasted on September 2 via live feed on Facebook.
Copyright 2023 Education Coffee Break